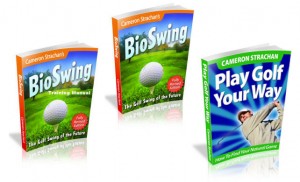 Why this product?
Information about the golf swing is still some of the most common requests I receive. My golf science page is the second most popular page on this website and the reason I started this website was because of all the research I did into the golf swing. Science rocks!
Even though this information has been off the market for a few years, it's still relevant. The other day I received a random order for this product, and after going over the content again, I realised that there's some really good stuff in here. It's too good to be hidden in cyberspace.

Didn't you give away Bioswing a few years ago?
I did. But I never gave away the full story and Golf Instruction contains more than just Bioswing. There's the training manual, which gives you some great drills on learning a more efficient golf swing. Plus, there's Play Golf Your Way, my first book on natural learning.
What does Golf Instruction 2.0 contain?
You get the golfer friendly version of Bioswing, the golf swing of the future. This came about after a major study into the biomechanics of the golf swing. I got to work closely with a team of sports scientists and then translated the findings into a useable form. The Bioswing Training Manual shows you the drills and exercises that help you learn a more efficient "scientific" swing and Play Golf Your Way is the original (and some say the best) introduction to Automatic Golf.
Cost is $37.50 and you get instant access to the print friendly PDF by clicking the links below.
[wp_eStore_add_to_cart id=7]
[wp_eStore_cart_when_not_empty]