Dear Golfer,
It's time to make golf improvement simpler.
You know the feeling. You try some sort of quick-tip or fix. It works one minute but …
… fails the next.
You're forced to keep finding new things to work on. Your golf game is one step forward and two back.
It's frustrating. It's annoying. And you don't know where to go next.
Almost all typical golf lessons go against our natural learning instincts. We don't learn other skills the same way as we learn golf. But why not?
It goes against all common-sense.
It's time to make you a better golfer. To give you a powerful and consistent golf swing … guaranteed.
Hi there. My name is Cameron Strachan and I'd like to help you play your best golf. In fact, I'm so sure I can help you I guarantee it.
But why should you listen to me?
Is it because I have used my own research to play off a below scratch handicap for 20 years now? Nope, that's not the reason – good play doesn't automatically guarantee I can coach you.
In 2004 I helped commission a major study into the golf swing. The research was full on but really helped unlock the mysteries of the game.
But this still isn't why you should listen to me.
I have taken this complicated and detailed research and created a learning system that makes golf improvement no harder than riding a bike or driving a car.
I have made the really complex and difficult (hitting a ball to a defined target) as simple as possible.
I can help make YOUR golf swing as good as it's ever going to be. And it's not going to require complex instruction or a complete swing build.
I can help make your natural swing shine through and I can show you how to tap into it time after time.
This is why you need to listen to me.
Most golf instruction bypasses your learning system. It's complicated. It's hard to do and it's almost impossible to know if you're doing things correctly.
So you go around in circles. You hope to play better but you're not sure. There's lots of self doubt and even some fear creeps in. The harder you try the worse things become.
But I can help you play better golf and unleash your most powerful and natural swing.
My Swing Trainer System is the quickest and easiest way to light your game on fire. No huge backswing. No stress. No complicated theory. Just a reliable swing that you can repeat time after time.
You'll be able to find your best golf swing with the least amount of effort. Here's just some of what you'll learn:
How to swing confidently and "on plane"
The only way to increase the flat spot of your swing
How to take the club away from the ball smoothly and with correct sequencing (over rotation is a huge fault and with the swing trainer this problem is all but eradicated)
How to make a shorter, but more powerful backswing position
How to remain balanced and athletic from the start to the end of each swing
How to have the right amount of wrist cock and arm action
The ability to start the club down so you don't lose power
How to avoid the common fault of coming over the top of the ball (and lose half of your power)
How to ensure the clubhead remains behind your hands and you achieve the classic "late hit" position
How to return the sweet spot of the club face directly to the back of the ball (once this happens your ball striking will naturally improve)
How to swing on plane without having to think about it
How to unlock your most natural and powerful golf swing
How to swing with supreme confidence
How to own a better golf swing without complicated swing surgery
How to create a longer Flat Spot
These are big claims but it's all possible when you start working with your learning system instead of against.
A powerful, instinctive and repetitive golf swing might not come naturally to you. But learning is normal for ALL humans and we all have the capacity to see significant improvement.
If you've tried but failed to play better golf then I can bet my bottom dollar that you've disrupted the learning process. You've made golf harder than it needs to be.
If you're motivated and inspired to keep playing golf because you know you have more talent and skill inside, then the Swing Trainer System is for you.
With just a few minutes each week you'll blend the optimal scientific swing principles with natural learning protocols. You'll discover how to get the biggest improvement with your golf swing using the least amount of effort. You'll be able to swing confidently when you get to the golf course and this in turn enables you to play consistently.
I have been reading/following your BioSwing technique, many of the properties and values I share. Keeping it simple is certainly a philosophy that would be best undertaken by all golfers, certainly those less proficient, but amazingly it often seems that the reverse is true. And as we age a less rotational action is certainly logical and practical.
Phil Scott – PGA professional
This all leads to both a mental and physical advantage. From here enjoyment, satisfaction and better performance is a natural byproduct.
Yes! I'd like to get your Swing Trainer Package now!
Guaranteed to work:
Use the swing trainer, try it out. Feel your golf swing change before your eyes. Take advantage of the Flat Spot Principle. If you don't think this is the easiest way to make significant positive change to your game then return the units for a full refund.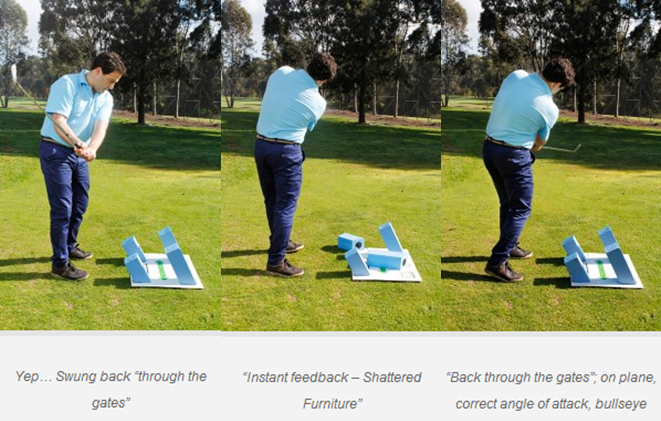 I'm ready! I'd like to order the Swing Trainer Package right now!
What's Included?
This package comes with the Swing Trainer, Drive Launcher and User Guides. You also get access to bonus electronic content that explains the art & science of the golf swing further, including, BioSwing Video and BioSwing manual (ebook). There's also some bonus training videos I've thrown in.
One more thing: This is a special offer that is only available for 14 days from your initial visit. Order now before the price returns to normal. Normal price is $200+ but it yours today for only $99 + postage
Don't like ordering online?
You can call me on 0403 372 261 and place order. I'm located on the Sunshine Coast, QLD, so be sure to check the time before calling. Have your credit card handy.
Some more details
– Works for both left and right handed players.
– Swing Trainer works with your 6 or 7 iron & the Drive Launcher has your driver covered. Master both devices and you'll have your entire golf swing sorted.- We ship world-wide. If you have a postal address we can get our products to you
– Shipping and taxes (where applicable) are added during checkout.
– All products come with a full money back guarantee.
– Special offer and pricing available for 14 days from your first visit to this page.